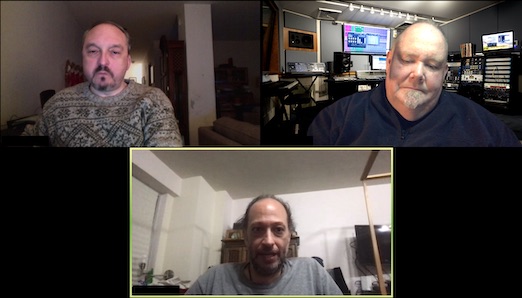 I joined Kevin with a bottle of Ommegang Three Philosophers. This would be a great brew to sip by the fire as your last beer of the night. It's a big, very malty, sweet, Belgian Quadrupel-style ale from Cooperstown, NY. It's also heavy as hell, with 9.7% alcohol-by-volume. It's everything I like, but tonight it's a bit too much of everything. We talked about the weirdness of the Macy's Thanksgiving Day Parade with no crowds and the prospect of a New Year's Eve of the same. Naturally, this led to discussions of City, State and Federal governance.
Not long after we dropped into that rabbithole, David joined us for a quorum. This month David brought a nice 2015 Bourbon County Stout, brought to you by the same people who make Goose Island IPA, out of Chicago. In a normal DNO, we'd all get a sip, but Kevin and I only got to watch. Probably just as well given the 12.7% ABV rating. (Is that even still beer?) I switched over to an Ommegang Witte. It's only 5.7 ABV, so it can be considered a "session" beer. It's flavored with orange peel and coriander like the best of beers in this style, such as Hoegaarden. It's certainly good and it's working better for me than the Three Philosophers, but I know Hoegaarden and you, sir, are no Hoegaarden. I am definitely a fan of Brewery Ommegang, but I'd prefer a Hennepin Saison or an Abbey Ale.
It's impossible to capture the nuances if every conversational thread, so I'll simply provide a list instead:
The six-hour preparation of Beef Bourguignon ("Don't Burn It!")
Kraftwerk, and why Kevin is no longer a MOMA member
The lack of oxygen in our nation's capital.
The burning of the Doris Duke Theater
E.F. Hutton, Marjorie Merriwether Post, Dina Merrill, and how he-who-shall-not-be-named came to acquire Mar-a-Lago at 40% of the asking price.
The liberal elite cancer eating away at the Democratic Party and how one "deplorable" comment ended Hillary's bid for the White House.
Sam Raimi, and how "The Classic" came to be a fixture in his films.
How an "X" appears in Martin Scorsese's films before each death scene.
Put it in the history books. DNO #95 is a wrap.
---
#2523